8 Days Nelion and Batian Mount Kenya Climb
Nelion South East Facing Hike
Nelion is a 5188-meter peak on Mount Kenya, the second highest peak in the country. It is a popular climbing destination, but it is not for the faint of heart. The climb is technically challenging and requires good fitness and acclimatization.
The standard route to Nelion is the Southeast Face. This route is typically climbed in one long day, but it is possible to bivouac on the summit in the Howell Hut and descend the next day. The best months to climb Nelion are December to March, when the weather is generally drier and sunnier.
The crux of the climb is UIAA IV- or UK hard severe or American 5.5. This means that there is a single pitch that is difficult to climb, but the rest of the route is less difficult. However, the altitude can make the climb feel more difficult than it actually is.
The route is about 400 vertical meters and doesn't follow a direct line. This means that route finding can be tricky in low visibility. A lot of the route is roped-up steep scrambling and running belays on steep rock, with the longest pitches around 50-60 meters.
The descent is a series of abseils following a slightly different line to the ascent and using bolted rings in the rock. It is important to be competent in abseiling unassisted and be completely familiar with using descenders.
Here is a summary of the key points:
Nelion is a technically challenging climb that requires good fitness and acclimatization.
standard route is the Southeast Face, which is typically climbed in one long day.
The crux of the climb is UIAA IV-, but the altitude can make the climb feel more difficult.
The route is about 400 vertical meters and doesn't follow a direct line.
The descent is a series of abseils.
THE GATES OF MIST – CROSSING FROM NELION TO BATIAN
Crossing the Gates of Mist from Nelion Peak to Batian Peak is a challenging undertaking, even for experienced climbers. The route is often covered in snow, especially in December, and the climb up to Batian Peak is short but steep. Climbers must be prepared to bivouac in Howell's Hut, as the crossing can take several hours.
It is important to attempt this crossing only in great conditions and with plenty of time. Climbers should be in good physical condition and have experience with rock climbing and rappelling. It is also important to be aware of the altitude and the potential for bad weather.
Clothing and Kit
Trekking clothes to cover the warm humid forests up to the snowline, good hiking boots and a warm lightweight sleeping bag. We provide foam mattresses but bring your own inflatable mat (e.g thermarest or exped) for extra insulation and to use for a potential bivi. Don't forget headtorch and spare batteries, especially since the climb begins and often ends in the dark. Water bottle and flask and snacks are vital, along with suncream and first aid kit.
Wear layers of warm clothes for the summit days and don't forget waterproofs and windbreakers. A quality belay jacket with hood is important, and leather belay gloves as well as thermal gloves.
For the climb bring your own harness, helmet, a medium rack of sprung cams, hexes and nuts along with 2 slings (long and short), a few prussiks, several screwgate karabiners, a descending device and belay device of your choice, some quickdraws and a cowtail. Crampons (or mini spikes) and walking axe are optional nowadays because the Lewis Glacier has retreated so much but poles are very useful for the
trekking.
Safety point about using daisy chains – if you need to make your own personal anchor system for security at belay and rappelling points please note that daisy chains should be clipped end to end for optimal use, and adjustable daisy chains are not recommended as primary anchor attachment.
Group gear will include 2 single 60m ropes, and a collection of climbing protection aids (nuts, cams etc), slings, prussiks and quickdraws but it's important you arrive self-sufficient and not reliant on the guide's equipment. You can hire some gear at the base of the mountain but we cannot guarantee the quality.
Bivouac pack
On summit day take a small sack with a lightweight sleeping bag, bivi bag, lightweight mat if possible, etc. Take spare batteries for headtorch, small first aid kit, sun cream, quality sunglasses and if there is a space a micro stove or jetboil.
Footwear
Take a comfortable pair of hiking boots for the trek and a pair of stiffer mountain boots which can take crampons or spikes for crossing the glacier and doing the climb. The sole should be stiff but allow some 'feel' for the rock. Rock shoes are an option but probably best for the warm days and for people moving fast and very efficiently. Otherwise they are likely to get wet and your feet will get very cold, so it's best to keep your options open and take something warm for your feet whatever the case.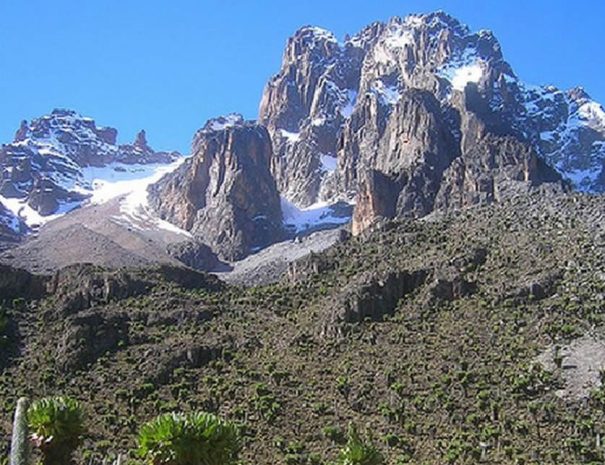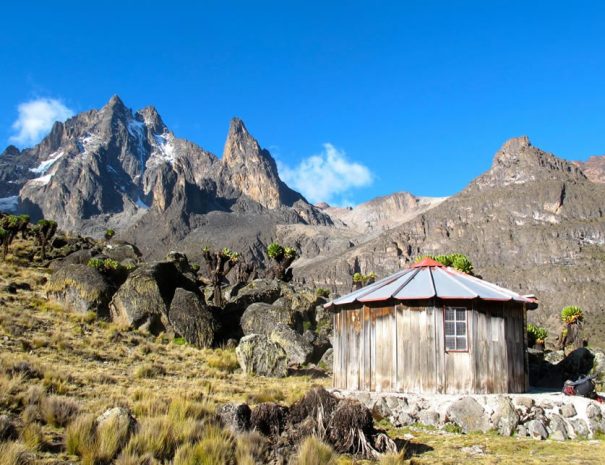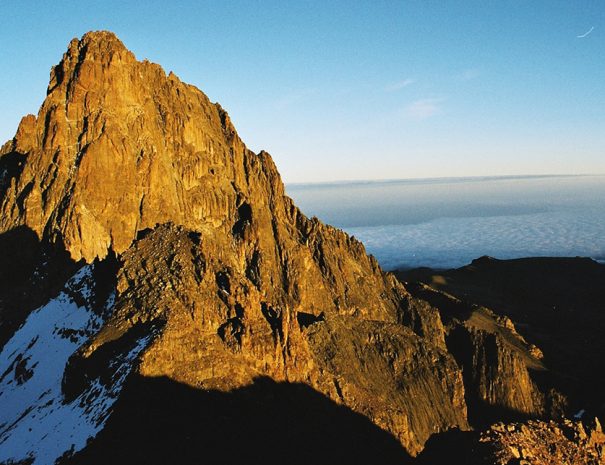 Transfer from Nairobi to the Sirimon Gate and trek to Old Moses Camp
Trek from Old Moses Camp to Shipton's Camp
Acclimatization hikes / R&R and second night at Shipton's Camp
Trek Shipton's – Point Lenana – Austrian Hut
Climb Day: Austrian Hut – Nelion Peak – Austrian Hut
Trek from Austrian Hut to Lake Ellis and on to Nithi Falls
Trek from Nithi Falls to Meru Bandas for 4×4 transfer to Chogoria town and transfer to Embu
Transport from Naro Moru town to Sirimon Gate and from Chogoria Gate to Embu
Transfer of your travel clothes and bags to Embu town
Park fees
Camping fees for 4 nights) and Austrian hut fees for 3 nights)
All meals on the mountain
Park rescue fees (Ranger assistance in the event of an accident)
Park certified trek guide for the trek
Climbing guide for the summit days only* (maximum ratio 1:2)
Porters and cook
AMREF FLYING DOCTORS EVACUATION INSURANCE
Group equipment – tents, cooking kit
Climbing ropes and group climbing protection
* The climbing guide will not be with you on the trek in, he normally is either already at the Austrian Hut or at another camp and meets you at Austrian Hut in time for the summit day. The trekking guide normally keeps in touch with the climbing guide to agree when to meet up, depending on weather
International airfare to Nairobi Airport
Kenyan Visa
Vaccinations and malaria tablets
Personal expenses
Travel insurance **
Personal Climbing Gear
Upgrade to Mountain Hut accommodation
Tips