11 Days Ruwenzori Mountains Climbing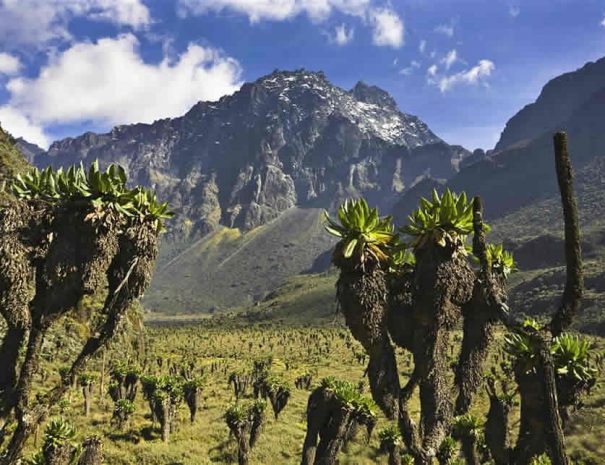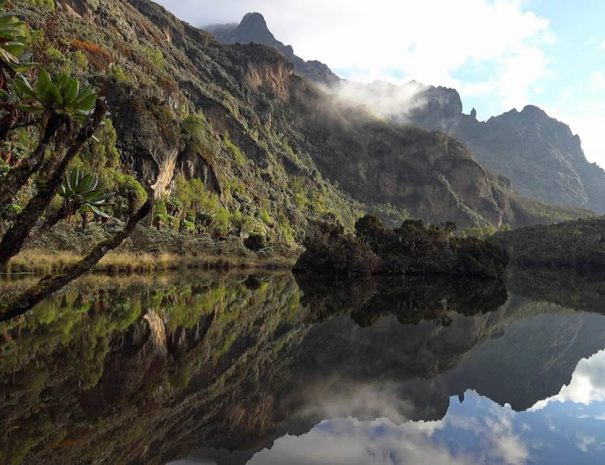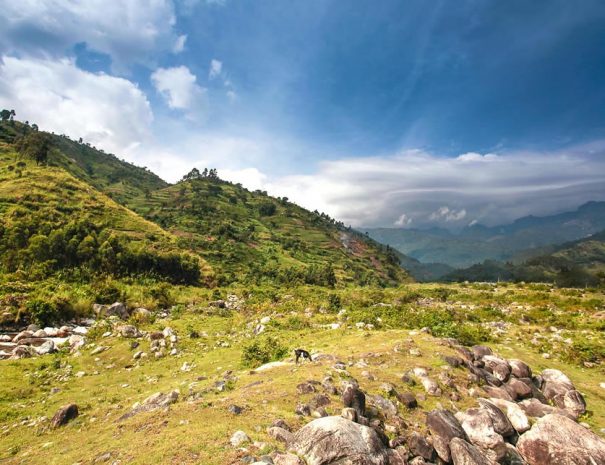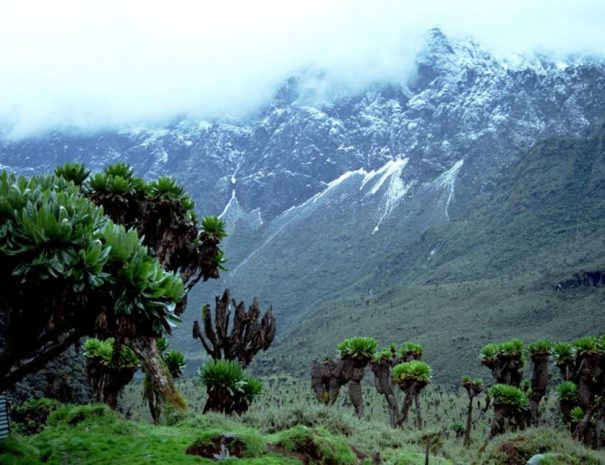 You will be welcomed by our driver at Entebbe airport then transferred to entebee town. Dinner and rest at a Guest house in Entebbe. NB :Comfortable buses are available to and from Nairobi to Kampala.
DAY 2: Entebbe to Mihunga Lodge
[APPROX 5HRS]
We depart Entebee town early morning after breakfast by van to Kasese town approx 6hours drive.Lunch break will be at fort portal town 2 hours from kasese town.
Dinner and overnight Mihunga lodge (twin sharing bed and breakfast basis)base of mountain.
DAY 3: Base Camp - Nyabitaba Camp
After Breakfast and park procedures we proceed with trek taking approx 4 hours walk through the forest.
Dinner and overnight (Nyabitaba camp -2650M)
DAY 4: Nyabitaba Hut – John Mate Hut
Wake up call is at 7am after breakfast and packing up at 8:30am we walk to john mate camp taking about 7hrs trek. Lunch is served along the trek.
DAY 5: John Mate - Bujuku Hut
Wake up call is at 7:30am ,breakfast is served at 7:30am.At 9am we Proceed to bujuku camp taking about 5-6 hrs while lunch is served at the rest point. Terrain :moderate climb a you pass the board walks,most of the day walking along serious mashy sections
Night time is cold
Dinner and Rest at Bujuku camp.
DAY 6: Bujuku Camp – Elena Hut
This day is a short day break fast will be served at 8am.At 9:30am we walk to Elena hut with our packed lunch approximate time 5 hours.
Dinner and Overnight (Elena hut 4600m)
DAY 7: Summit - Margareta Peak 5109m
Wakeup call is at 2;30am have your climbing gear ready before breakfast time. Have your breakfast then head to Margareta with a time estimate of 8-9 hours can take more time.head down to Kitandara camp. Dinner and rest at kitandara camp.
NB: itinerary can change after summit
Day 8: Kitandara Camp - Guyoeman Camp
Wake up call 6: 00am ,6:30am breakfast served. Proceed to Mt 'guyoeman camp :time , 6-7 hrs trek through the bogs
Dinner and rest at Guyeoman camp.
DAY 9: Guyoeman Camp - Nyabitaba Hut- Fortpotal
Wake up call 7:30am, head then further down to nyabatiba camp for late lunch, down further to hotel. Dinner and rest at Fortpotal
DAY 10: Fortpotal Town - Entebbe Town
We proceed to Entebbe town for an overnight.
Depart to your next destination
Transfers from
Entebbe and back
Transfer from Entebbe town to base and back
Accommodation in Entebbe twin sharing and Mihunga lodge 2 nights each bed & breakfast
All meals in mountain
Park entrance fees
Mountain permit
Guides
Porters
Cooks
Hut fees
Insurance

Extra days in mountain

Tips & gratitudes

Alcoholic drinks

Flights

Hiking & climbing gear (crampons,helmets, seating harness &ice axe-can be rented though)