The cost of climbing Mount Kenya depends on different factors such as the number of days or people in a group. Other factors include the Travel Company you choose and the time of the year you will hike the mountain.
As there are different trekking routes on Mount Kenya, there are different options and prices as well. The cost of climbing the mountain should include the park and facilitation fees. An average of $200 per day per person is usually a fair deal.
Before planning a visit to Mount Kenya, it is important to choose a package that you can easily afford. Here are some of the factors that determine the cost of climbing Mt Kenya. They include;
Number of days on the Mountain
The cost of climbing Mount Kenya can depend on the number of days you are planning to spend on the mountain. If you plan to take fewer days then the cost will be lower than when you take more days.
For that reason, it is important to decide on the number of days before you start hiking. You can climb Mt Kenya in as little as 4 days but you can also do a traverse and spend 6 days on the mountain. Make sure you seek a quotation of the price breakdown.
That way, it will be easy to decide on the number of days you can spend hiking.
Number of people in a group
Some Mt Kenya packages will require you to give information about the number of people in your group. These will help in deciding the amount of money to pay for hiking.
In some packages, a large number of people might pay lower, unlike a small group. For that reason, you can decide to share the cost as a group.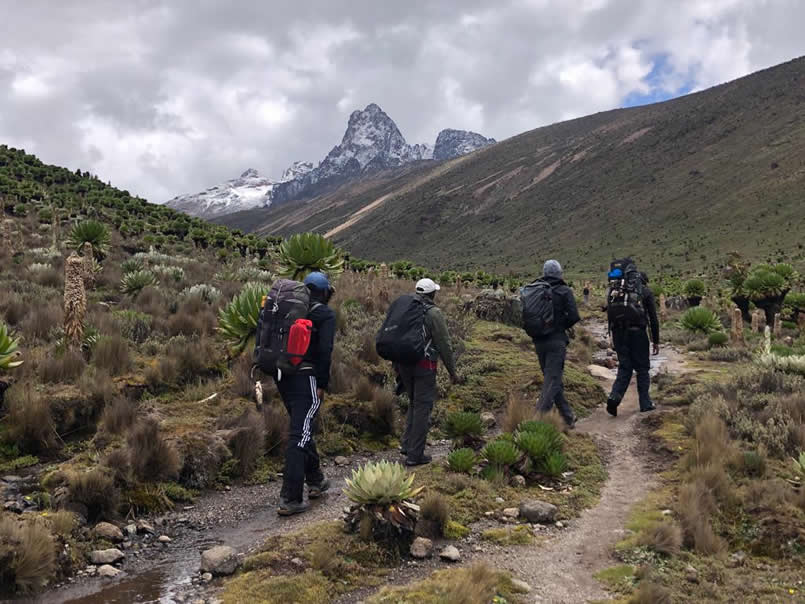 There are 8 main trekking routes on Mount Kenya. It is upon you to choose a route that is favorable for you. You will need to use other routes when ascending and others while descending.
Regardless of which route you choose, it can cost between 500 and 700 EUR or 500 and 800 USD. If you are interested in doing the Burguret – Chogoria Traverse, for example, you can expect to pay about 975 EUR or 1080 USD.
You will also note that the cost of climbing Mount Kenya depends on the time of the year. There are peak times of the year with different hiking charges.
Before planning your trip, ensure that you are familiar with peak and off-peak times of the year. That way, you can easily plan your visit when the prices are quite fair.
Peak times of the year can depend on the climate of the particular time. For that reason, ensure that you choose to hike the mountain when the climate and temperatures are conducive for you.
Mount Kenya can be climbed all year round. But if you want the best weather then you should be planning for January to March or June to October.
Of course, the weather on the mountain can be hard to predict and all seasons are possible at any time of the day, but if you stick to the best seasons, you can get the best price for your package.
Climbing Mount Kenya will require you to have equipment in advance. Some of this equipment is hiking gear like boots, gloves, a cap, toiletries, and many more.
Some packages will ensure they include the amount of equipment you will need to buy. Choose a package that has the all necessary equipment that you need during hiking.
The cost might be high if you require more equipment. Other people can exclude the equipment fees and seek to come on their own.
When hiking Mount Kenya you might require choosing a company to facilitate you with a package. Different companies will offer different packages.
You will need to research different travel companies and compare their charges. You will weigh which company has the fair charges.
Some company packages generally include transport to and from Nairobi, meals, a professional guide, accommodation for the hiking nights, and the cost of the park permit.
In most cases, you will need a guide and porter who will guide you through the mountain. The cost of climbing the mountain is inclusive of the cost you will pay your tour guide.
You might also require tipping your tour guide after the trip. Ensure that you carry some money in case you will need to give a tip-off. It is also a nice way to appreciate their efforts.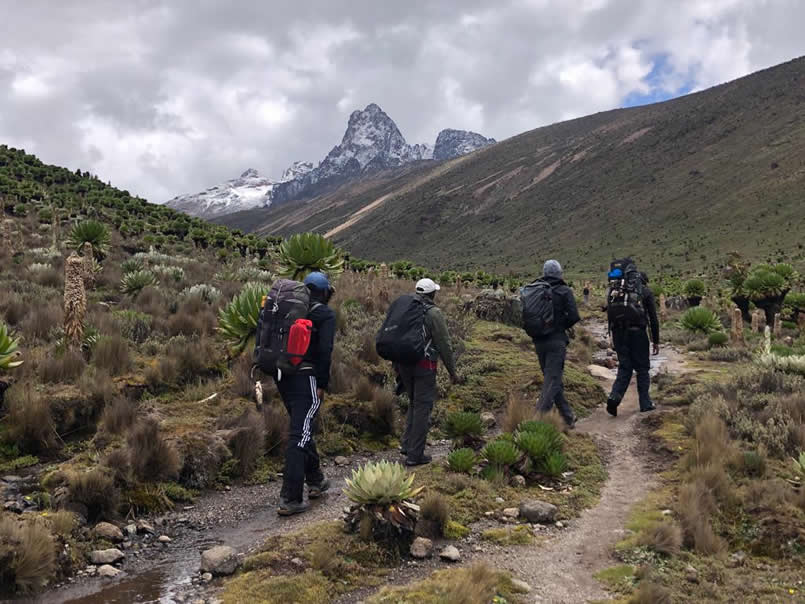 No matter how well prepared you are, you are taking certain risks by hiking Mount Kenya. We recommend taking out travel insurance that covers you for hiking up to 6,000m.
Some companies offer insurance that includes cover for high-altitude hiking. That way, you will be sure of assistance in case of emergencies during the hike.
In conclusion
Hiking Mount Kenya should not only be fun but cost-friendly.  Keshi Tours has a package for everyone who wants this experience from budget to luxury hike.