Trekking on Kilimanjaro year-round is very possible. However, from June to March is known to be the best time for climbing Mount Kilimanjaro where April and May are known to be wet seasons.
Therefore, it's not an ideal but still possible period for Mount Kilimanjaro climbing. August to October is also the best months to climb Kilimanjaro; but you'll find the highest traffic during August and September because of the summer holidays.
Tanzania, located in East Africa is a favorite tourist destination hosting the Seven wonders of the world, the wildebeest migration of the Serengeti. This predominantly Swahili country with exotic Coasts is also home to Mount Kilimanjaro, Africa's tallest mountain, also known as the root of Africa.
Mount Kilimanjaro rising 5,895m above sea level gives its summit an artic climate. Year in, year out, tourists flock to see this mountain and its snow covered peak.
Tanzania, by virtue of its proximity to the Equator, the country can experience hot and cold months. Meaning, tourists hiking M.t Kilimanjaro experience extremely high and low temperatures.
The best time to hike M.t Kilimanjaro is from April through October as this is the season the southern slopes of the mountain are particularly susceptible to rain, making them slippery and dangerous.
When confined to a trekking date in April or May, tourists are encouraged to hike using the Rongai route which departs from the Northern side of M.t Kilimanjaro and is generally considered drier than the Southern route.
Two distinct seasons that constitute the best time to climb M.t Kilimanjaro are January to March and  March to October. January to March months, being colder compared with June to October provide tourists with a higher probability of encountering snow at the peak of this exotic mountain.
For the tourists arriving from N. America and Europe, hiking M.t Kilimanjaro around June to October is ideal as this season coincides with the summer season in these respective countries. Extroverts with a taste for Safari and adventure will find this particular period of the year appealing as it's the busiest, compared with January to March which are quieter.
Tourists with a desire to hike M.t Kilimanjaro and living in different climatic conditions from Europe, March, April and November are the wettest months, hence not ideal for trekking. December to May consists of snow fall and cold temperatures.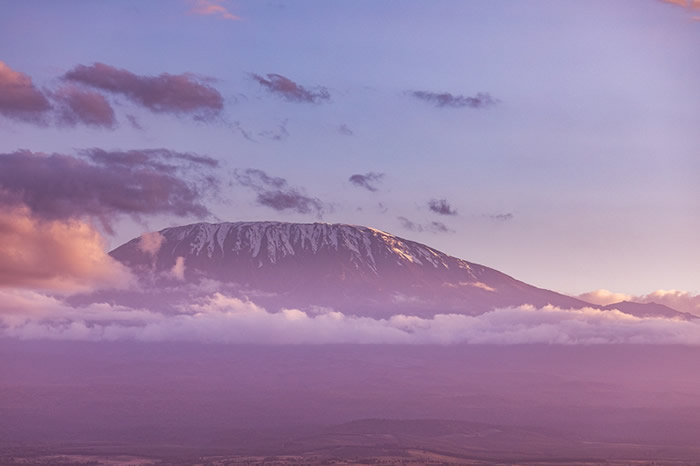 Trekking M.t Kilimanjaro starts at the rainforest zone which is 1000m-200m. Here, hikers experience diverse flora (moss-covered trees, gnarled trunks, vines, fern fronds,) and fauna (blue monkeys, black and white colobuses, birds, insects).
The upper part of the rain forest has more diverse flora compared to the lower part, containing more than 1,800 species of flowering plants. This is definitely a favorite climate zone for hikers of Mount Kilimanjaro.
Standing at between 2,000m-4800m, the Afro alpine moorland zone of M.t Kilimanjaro is where the rain forest dissipates and is characterized by giant groundsels only found in Kilimanjaro! Here, temperatures can be very hot during the day then dip into extremes after sunset.
The alpine desert zone- dry, cold and windy stands at 4,000m-5000m. Extreme fluctuation between the heat of the day and the cold of the night means there's sparse vegetation and animal life.
Trekkers of M.t Kilimanjaro struggle at this zone as the high altitude come with breathing difficulties and heightened exposure to the sun. Symptoms of altitude sickness are also a norm.
Wind and temperatures are fierce at the arctic zone, ranging from-7 to -25°C. This zone stands at 5000m-5895m and consists of primarily loose gravel.
For hikers, this zone can be quite tricky to climb as the higher one climbs, one encounters ice which make the path slippery. However, the effort is rewarding because no matter how fierce the temperatures and wind are, the view at the summit is breathtaking.
Climbing Kilimanjaro is like hiking from the Equator to the North pole in just a few days. For first time hikers, it is important to know what to pack so that you can be comfortable and protected.
All those who trek Kilimanjaro begin their summit attempt at midnight using headlamps for light. Some are fortunate enough to walk under the brightness of full moon, an incredibly beautiful experience.
What would it feel like ushering in the new year from the highest peak in Africa? For this incredible experience, tourists opt to trek Kilimanjaro at New Year's Eve during the short dry season which is the best time to hike the mountain.
One of the first thing hikers are encouraged to do is to treat the local people who work on the mountain with respect. This includes paying the guides well as well as treating them like family.
The two biggest reasons why hikers fail to reach the summit of M.t Kilimanjaro are lack of adequate physical preparation and lack of acclimatization. First time hikers are therefore encouraged to take this into consideration before engaging in such an expedition.