Mt.Kenya has mountain huts which are managed by private groups in all three routes. Some of them especially Sirimon side are well taken care of.  There are also camping grounds with basic facilities ideal for camping comfortably.
In this article, we also feature some hotels and lodges near the mountain where you can stay before or after your hike.
Here are some of the accommodation facilities  you can find in and around Mount Kenya.
Old Moses hut
It was formerly known as the Judmier Camp. This camp stands at 3300 meters and is located 9 km up from Sirimon gate which is about 2-3 hours trek.  Old Moses hut offers self- service accommodation.
It is a well maintained mountain hut where most hikers spend their first night of the trek. At Old Moses, you have the option of sleeping in dormitory like bunkers or camping in the spacious grounds. It has a kitchen and dining area plus a clean and well maintained bathroom.
The Shiptons Camp
It is located just below the main peaks of Mount Kenya. Here you can also sleep in bunk houses within the mountain hut. The camp is located at an elevation of 4,200 meters and is used by most hikers on their final day before summiting point Lenana at 4,985 meters. Shiptons Hut is situated at the very foot of the mountain and you get good and close views up to both Nelion, Batian and Point Lenana if the weather is clear.
Mount Kenya Safari Club
Nanyuki town has accommodation to suit every pocket from the five-star Mt.Kenya Safari Club, to Ibis Hotel in the town Centre. Sited on the lush lower slopes of Mount Kenya at Nanyuki, the Mount Kenya Safari Club offers a unique blend of comfort, relaxation and adventure.
Set in manicured lawns, ornamental ponds, flowerbeds, this famous retreat exudes quiet elegance against a dramatic backdrop. Wildlife within the forests below the park boundary includes elephant, buffalo, lion, several species of antelope including the rare bongo and occasionally the melanistic forms of both the leopard and the serial.
Much of this wildlife can be seen from the safety of the Mountain Lodge, which lies just inside the forest on the south side of the mountain. Mountain climbers should appreciate the need for acclimatization over several days before attempting the high peaks. Naro Moru River Lodge specializes in assisting climbers with guides, porters and equipment.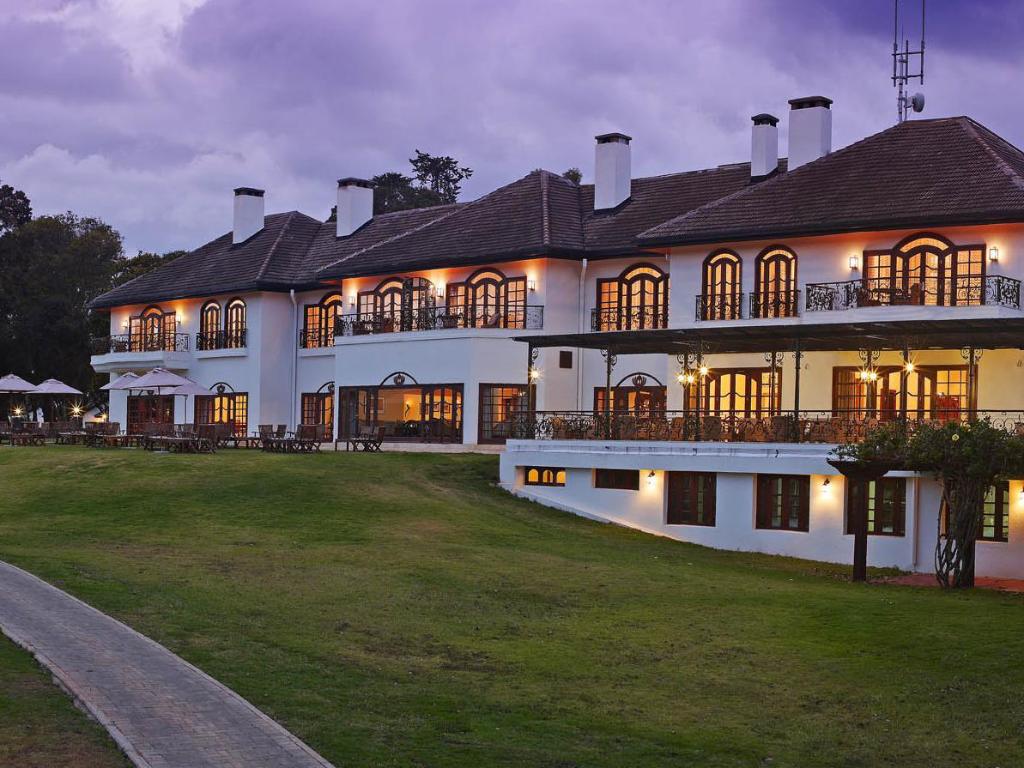 Warden's Cottage
You might opt to stay at the Warden's Cottage near the Naro Moru gate in Mt.Kenya National Park.
The cottage was built in 1972 by former warden Bill Woodley and until 1998, was home to the park's wardens. These are two bedrooms, one with a double and a single bed and the other with two single beds.
There is a bathroom with hot water bath/shower and a tastefully furnished sitting room. You could also stay at the Sirimon Banda, pleasantly situated in open grassland adjacent to the Sirimon gate. It has two semi-detached units in one attractive stone banda.
Each unit has two bedrooms, one with a double bed and the other with two single beds. Each unit also has a shower room (hot water) and WC, and a furnished sitting room with a log fireplace and doors leading to a small veranda.
The house provides a caretaker, kerosene lamp, bedding, and toiletries. Both houses can be booked through the Kenya Wildlife Service or travel agent.
For those who love to camp, campsite with picnic tables, water and a pit latrine are offered at the park's entrance gates, Naro Moru, Sirimon and Chogoria. However, you need your own firewood. For Mackinders Camp, Shipton's Camp, and Minto's Hut water and pit latrines provided but no fires allowed.
Peak circuit campsite are offered at the Australian Hut and Top Hut and Kami and Two Tarn campsites (water and pit latrines provided, no fires allowed).
The Serena Mountain Lodge
The Mount Kenya National Park & Forest Reserve covers the slopes of Mount Kenya and the park is only a two and a half hour's drive from Nairobi. Apart from the Big Five, the bird life is prolific.
At the height of 7,200 ft., on the slopes of Mount Kenya, is Mountain Lodge. The lodge is ringed by a dense forest, which comes alive at dusk with the myriad sounds of animals.
A specially constructed viewing bunker, connected to the lodge by a short tunnel, affords a spectacular close-up view of the game at the waterhole.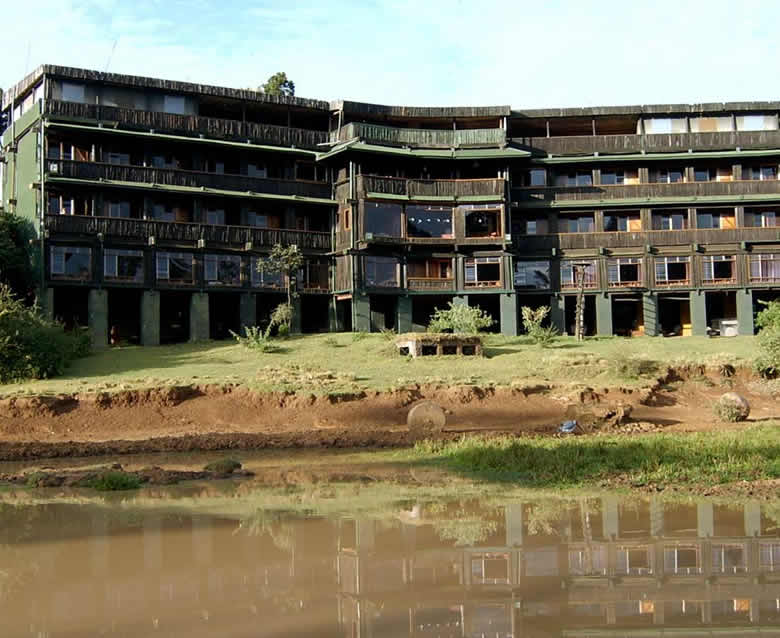 Timau River Lodge
Timau River Lodge, situated on the forested slopes of Mt Kenya, has camping sites as well as bandas built of cedar logs sleeping 2-4 people.
Timau River Lodge Accommodation consists of 7 Budget Bandas/Cabins each with two beds, Main house rooms that accommodate 20 Guests, 13 Cottage rooms that can accommodate 20 Guests, Tents and bedding that can accommodate a total of 80 Guests.
The lodge is a base for climbing Mount Kenya through Chogoria route. The Timau Track, the main access route on the north side of the mountain lies in a major rain shadow. Because of this there is a very little forest on this side of the mountain. 
Sirikoi Camp
Sirikoi is a spectacular game lodge situated on private land and surrounded by the Lewa Wildlife Conservancy, on the northern slopes of Mount Kenya.
Set in a shady acacia grove and overlooking a natural waterhole fed from a mountain spring, Sirikoi offers some of the best game viewing in East Africa. From Sirikoi one can take helicopter trips, biplane excursions, fishing, track lions, ride horses, game drive and visit local Masai homesteads.
Willie and Sue Roberts, your hosts and owners of Sirikoi have been running tailor made safaris for over thirty years, and their stories are extraordinary, and make for much laughter over dinner. Sirikoi has a 20ft hide with dramatic views of mountain ranges.
In conclusion
Keshi Tours ensure that you have a wholesome experience throughout your stay in Mount Kenya. We partner with different accommodation facilities in Mount Kenya that give you a home away from home vibe. Contact us for any accommodation facilities booking.