Is Mount Kenya hard to climb? You may ask. Generally, Mt Kenya is not hard nor is it simple to climb. It's not hard because it's not high so not bad for altitude but don't underestimate it as most people start developing altitude sickness from 4000m. It's not also easy to climb as it has uneven terrain whereby you will have to ascend steep hills and go down valleys.
Mount Kenya is located in equatorial Africa and is the second highest mountain in Africa. Mount Kenya plays host to dense bamboo and rainforest on its lower slopes and rare afro-alpine moorland and plant-life at higher elevations. However, it has three peaks the Batian which is 5199m, Nelion which is 5188m and Lenana with a length of 4985m.
The mountain has five main routes to the peak, Sirimon, Burguret, Naro Moru, Chogoria, and Timau. For that reason, it is upon you to choose a favorable route that will ensure you have an easy trekking process.
Length of the mountain
Climbing the mountain is not hard because it has a length of 5199m and 17057ft elevation. Hence, this makes it cost effective and it provides amore off-the-beaten-path adventure unlike other mountains.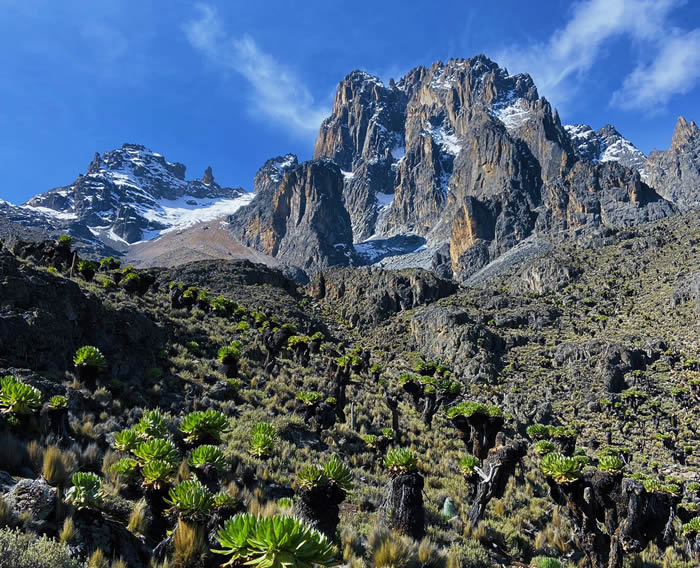 It is also not so high so it is not bad for altitude. However, most people find it hard to climb because they get sick from 4000m altitude. That way, they begin to get throbbing headaches and symptoms of acute mountain sickness.
Altitude sickness or acute mountain sickness is the main obstacle hiker's face in reaching the summit. Before hiking MT Kenya it is essential that hikers are fully informed on the risks, symptoms and treatments available.
Terrain
It can also be hard to trek through Mt Kenya because of the uneven terrain. It can be hard to go down the steep hills and valleys if it is the first time.
Moreover, if you regularly trek in hills and mountains then it can be easy for you. Most summit routes and landscapes can be challenging and for that reason you need a good support team.
Physical fitness
The trek up Mount Kenya demands effort but it rewards all the way up to the peak. It can be challenging to climb the mountain if you do not have a descent level of fitness.
For easy climbing you will need to be physically fit to help you maneuver the peaks and trails. If you are fit, it will also be easy to gain altitude quickly. You will need physical stamina as well as mental concentration that can last you up to 11 hours.
Hydration
Mt Kenya is also very accessible but only if you eat well and drink lots of fluids. That way, you will ensure that you are energetic and hydrated. If you get dehydrated along the way, you might end up finding it hard to get to the peak.
Guides, porters and cooks
It is very accessible if you tackle with an experienced team. The trekking crew will usually consist of a guide cook and a porter for the cooking gear plus a personal porter per trekker. Trekking with a good experienced guide makes all the difference.
A good experienced guide is important because;
They will regulate your pace and be able to draw on their experience to diagnose altitude sickness symptoms. Hence, they will make critical decisions.
They have adequate knowledge of the wildlife and fauna on the mountain. That way, they will ensure the environment is alive.
It is not easy to hack through dense forestation with evidence of elephants and buffalos all around. But with the help of guides it will be easy to trek through the trails.
It is fair to say that all the guides will have a good knowledge of the routes, but only the good guides will have wildlife knowledge and experience of dealing with altitude and sickness problems.
Peace and solitude
Most people find Mt Kenya easy to climb because it has peace and solitude unlike other crowded mountains. That way, they will have an easy time climbing through the mountain without any interference.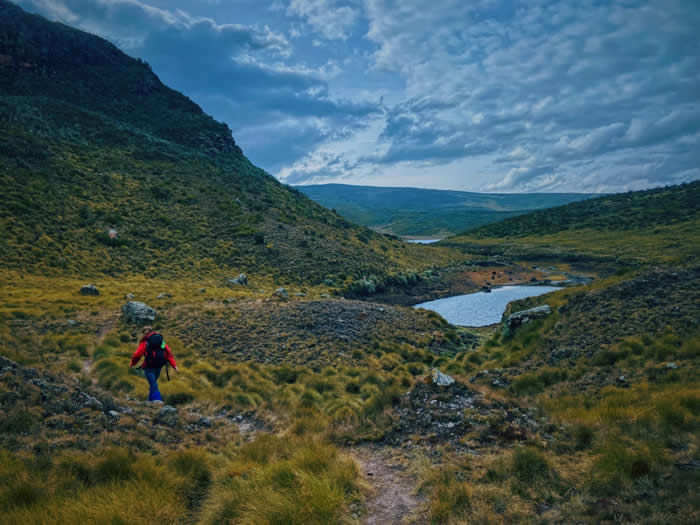 Weather changes
Mostly, Mt Kenya gets freezing at night. You will need to be ready for overnight temperatures. Also, you will need to be prepared for plenty of hot overhead sun and rain if you are trekking during short or long rains.
Are you up for the task? Check our Mount Kenya Climbing Packages below.
4 Days Mount Kenya: Click to See Details
5 Days Mount Kenya Lake Tour: Click to See Details